Reaching Beyond Our Walls
Through Outside Services, Learning Grove works to break down barriers to traditional services by providing outreach to the community through comprehensive supports to families and coaching and management assistance to early childhood education centers working to improve their quality rating.

Our family outreach project is currently based in our Price Hill locations. It expands our work with young children to include assisting their entire family in meeting their goals and dreams as it relates to housing, education, employment and supporting their children as their first teachers. This work is driven through our two early childhood resource coordinators and our family outreach director. We focus on the families enrolled in our early learning center sites, families with relationships with Oyler and Roberts School, and any family with children, ages 0-5, living in the Price Hill area.
THE PROGRAM INCLUDES THREE CORE COMPONENTS:
Parent/Community Engagement
On-going events are planned to engage parents to help deepen relationships and strengthening community connections. These are often coordinated with other service providers and serve as the entry point to develop relationships with parents of young children.
Early Childhood Resource Coordinators connect families living Lower Price Hill and Price Hill to resources to help stabilize and support them. In Fall 2018 through a partnership with Freestore Foodbank and CPS's Roberts Academy, Learning Grove opened the Price Hill Center/Roberts School Pantry to help serve families. Our two ECRCs work closely with the resource coordinators serving school-age children at CPS's Roberts Academy and Oyler School to coordinate their efforts so that Learning Grove ensures the needs of families with children, ages 0-5 are met prior to entering kindergarten. Community Learning Center Institute (CLCI) serves as lead agency in both schools. Our ECRC work closely with staff to coordinate efforts.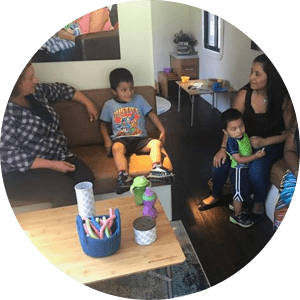 Our "mobile classroom" travels to underserved neighborhoods to connect with parents whose children are not in an early childhood education program. Our goal is to bring together parents/caregivers/children to learn about ways to foster their child's early learning and development through everyday activities at home and in their neighborhood. The mobile classroom travels to scheduled locations and includes our Learning Together Lead Teacher who engages children and parents in age-appropriate learning activities and our early childhood resource coordinator who helps families access stabilization resources for food, health, housing and employment.

For more information, please contact April Mueller, Director of Family Outreach at amueller@learning-grove.com.
Supporting Children & Students
Supporting Parents & Families
Supporting Professionals & Community